The unique experiences of dining out at a stellar restaurant and spending a night in a luxurious hotel are hard to beat, which is often why we seek them out. However, there's no reason why your home shouldn't have a similar chic and polished feel. To help you bring a piece of that unforgettable meal or hotel stay with you after you leave, we've chosen the top spots in the San Diego area with stunning design elements to incorporate into your own home.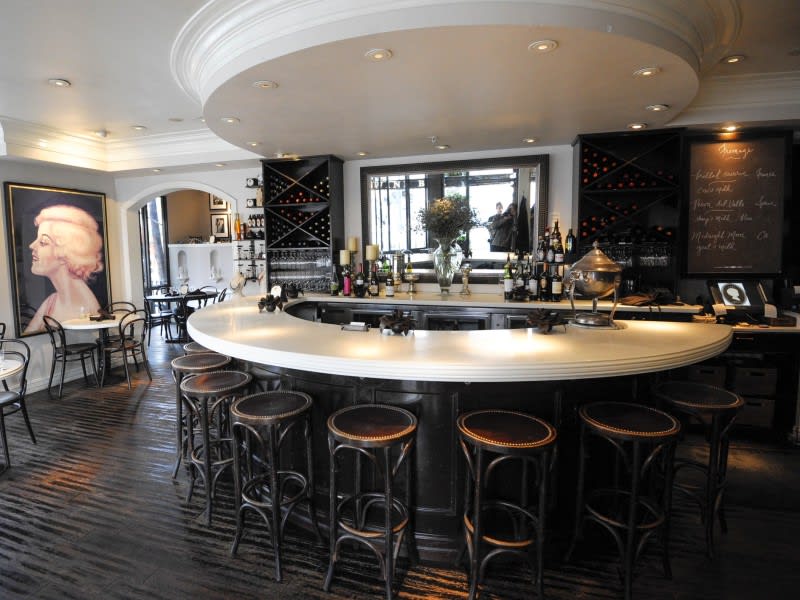 Café Chloe
721 Ninth Avenue, San Diego, CA
A cozy café located in San Diego's urban East Village, Café Chloe brings a piece of Paris to downtown's largest neighborhood. A hip area filled with luxury hotels, restaurants, shops, and galleries, the East Village is the perfect home for Café Chloe, the city's first European-style café.


Decorated in classic French fashion, the beautiful dark floors and crisp white walls complement the marble tables and minimalist yet chic seating. The space feels effortlessly stylish and welcoming, transporting patrons to the banks of the Seine river as they enjoy signature French dishes and wines.


Get the Look: The Parisian look is simple and understated, therefore not difficult to recreate in the home, and can be integrated into the household design on several levels. Bistro chairs instantly elevate a breakfast area or bar seating and can be purchased new or antiqued for a more authentic feel. Bring your accent wall to life with a large framed portrait or vintage poster that commands the room, or integrate an X-shaped wine rack within a bar space for a design-centered practical storage solution.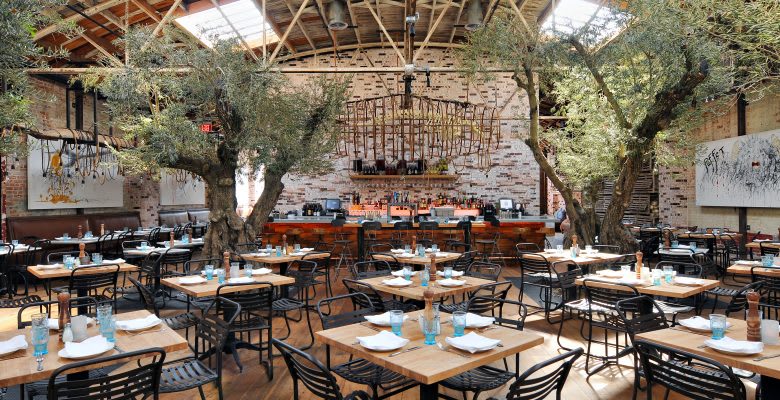 Herringbone
7837 Herschel Avenue, La Jolla, CA
Marrying imagery of classic seafood restaurants with Southern California living, Herringbone is a welcoming restaurant housed in a converted warehouse filled with natural light and playful design elements.


Designer Thomas Schools, a leading hospitality interior designer, took inspiration for space from coastal La Jolla living, incorporating an indoor-outdoor airy feeling along with traditional beach artifacts with a modern twist. A giant whale skeleton surrounded by a wrought-iron cage turns into a chandelier at night when industrial light bulbs that hang from the structure switch on. The 100-year old olive trees on either side warm the room and contribute natural textures and aromas to the California-cool dining area.


Get the Look: The beauty that the trees bring to Herringbone is easily translated into home design. A rustic indoor garden feel can be created by incorporating a large potted plant or small tree into a well-lit space, using greenery as a source of color and life in both small and large spaces. Mimicking Herringbone's blend of indoor and outdoor living, large leafy plants are trending in design and can easily transform a room.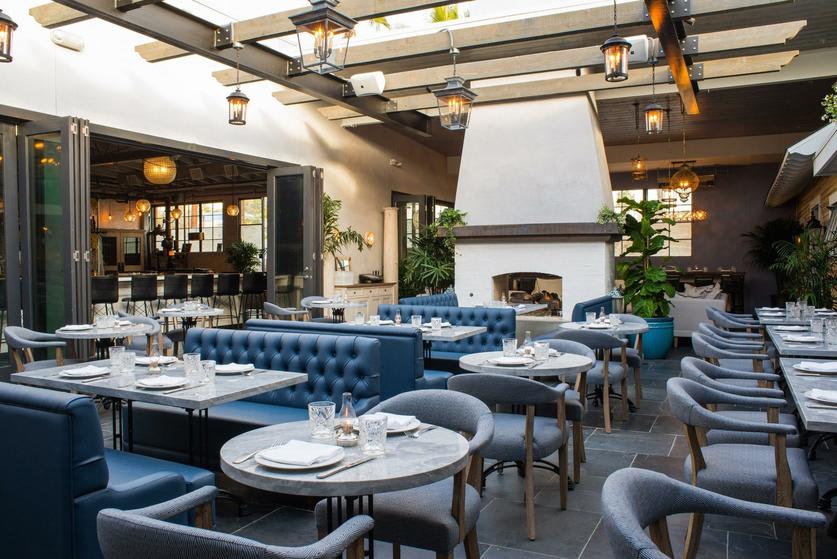 Herb & Wood
2210 Kettner Boulevard, San Diego, CA
Led by celebrated San Diego chef Brian Malarkey, Herb & Wood is a 'Secret Garden'-like dining experience found in the city's Little Italy neighborhood. With tufted seating throughout complemented by a double-sided fireplace in the dining room and pendant lighting dangling about the room, the space is warm, welcoming, and undeniably chic.


Designed by Christopher Puffer, Chef Malarkey's longtime business partner, Herb & Wood resembles an elevated loft space with seating for 230. The cozy tufted booths in the dining room and pillow-lined couches in the entry rooms are inviting and irresistible, perfect for enjoying a cocktail, the Italian-influenced menu infused with global flavors and the company of others. Soaring ceilings and artfully selected lighting – including massive beaded chandeliers – balance the dark leather furniture.


Get the Look: The comfortable elegance that emanates from Herb & Wood's 9,500-square-foot restaurant can translate to any room in a home. From an oversized tufted couch in the living room in a bold deep blue or green to an accent chair in the bedroom with both fabric and wooden accents or even a leather banquette in your kitchen's breakfast nook, the possibilities for recreating this design are endless.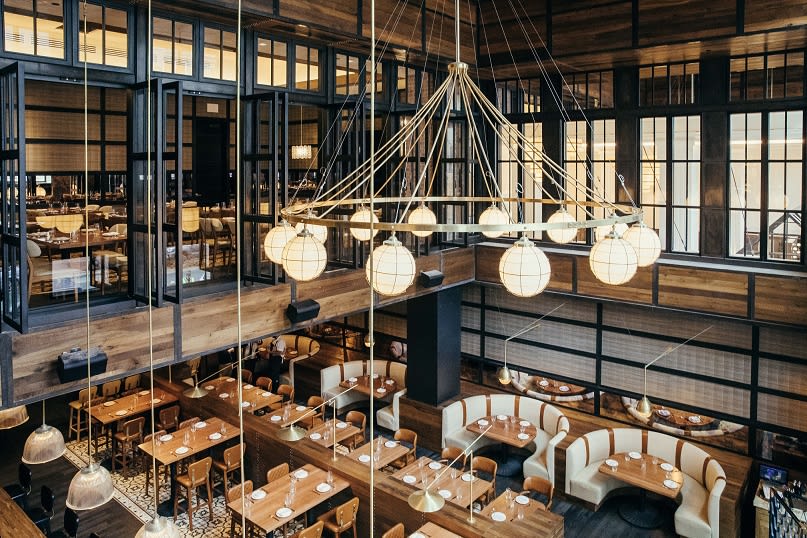 The Pendry
550 J St, San Diego, CA

New this year to San Diego's Gaslamp Quarter, The Pendry is a posh $120 million hotel developed by founder and CEO of Montage Hotels & Resorts, Alan Fuerstman, and his son Michael. Offering a boutique feel, six on-site restaurants and bars, a rooftop pool, and an eccentric design, The Pendry was built for the new generation of luxury consumers.


From the glass and stone exterior and the bold industrial-style windows to the incorporation of wood, metal, and modern furniture throughout the hotel, The Pendry makes a contemporary statement. One element that stands out in many of the spaces – particularly the restaurants – is bold light fixtures. Two large chandeliers in non-traditional style hang in Provisional, a more casual eatery, while a unique 12-orb large chandelier hangs from the ceiling and ties the room together at Lionfish, The Pendry's upscale restaurant.


Get the Look: Whether modern, traditional or completely out of the box, lighting can transform a room and even serve as a focal point or piece of art. Rather than an overhead light-ceiling fan combination, try a statement light fixture in your home to liven up any room, from the dining area to the bedroom or living space and even the bathroom.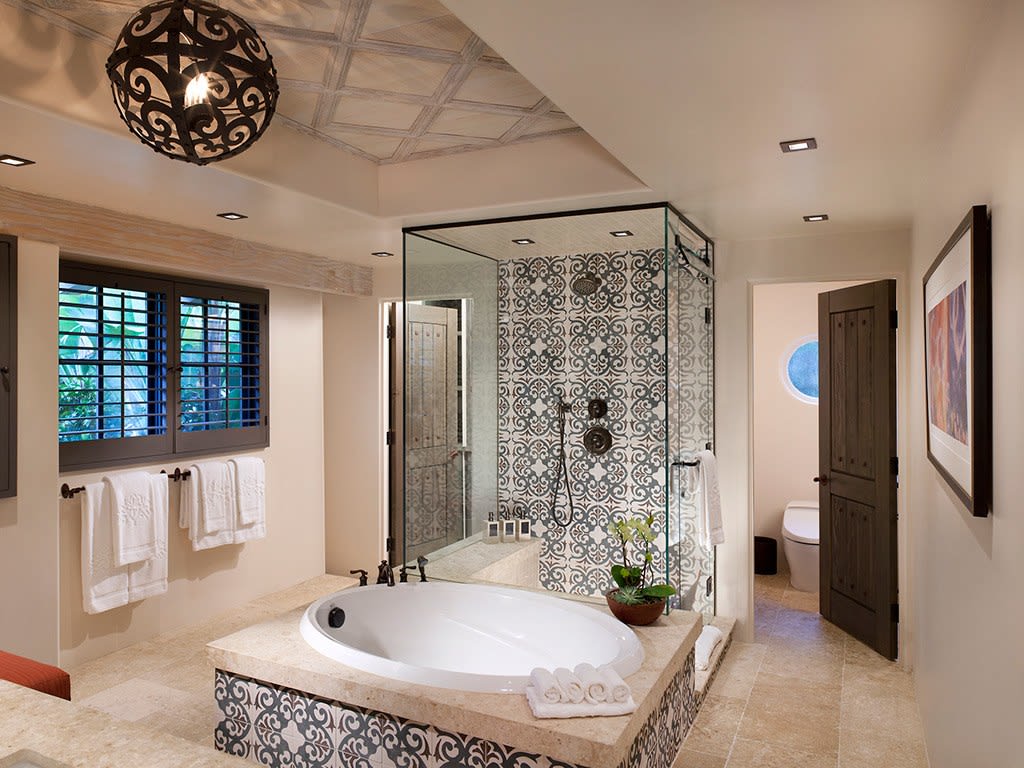 Rancho Valencia
5291 Valencia Circle, Rancho Santa Fe, CA
Ranked by U.S. News & World Report as one of the best hotels in the country, Rancho Valencia is a 5-star resort and spa property in Rancho Santa Fe comprised of 49 suites and villas set among the golf courses, polo fields, and horse ranches of the San Dieguito Valley. Reminiscent of an old Spanish hacienda, Rancho Valencia's clay-colored exterior, manicured gardens, ample exterior lounge space, and romantic casitas make it one of the most desired getaways in the United States.


In 2012, the resort underwent a $30 million transformation, making it the award-winning and world-class destination it is today. The cozy, private rooms and welcoming furniture and decor make guests feel as if they are alone in paradise. Each room features bold, rustic wood beds, warm lighting, and a private garden patio, providing a luxurious yet comfortable escape. Every space at Rancho Valencia was inspired by hacienda-style design, which even extends to the bathrooms, where vintage wood doors, deep soaking tubs, and hand-painted tiles complete estate-style guest rooms.


Get the Look: This attention to detail can be easily carried over into home bathroom design, where an emphasis on beautiful elements can often be forgotten. The replacement of standard shower tiles with hand-painted, patterned, or a custom tile design can bring the room to life and make a bath, shower, or simply the time we spend getting ready every morning much more enjoyable.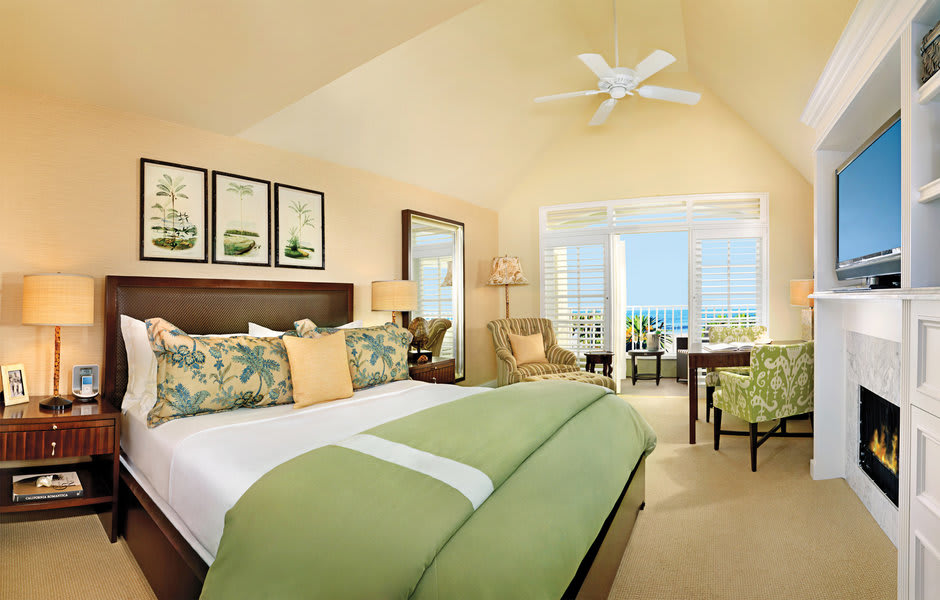 L'Auberge Del Mar
1540 Camino Del Mar, Del Mar, CA
Repeatedly named a leader in the luxury resort arena, L'Auberge Del Mar is a Southern California beach resort in Del Mar reminiscent of a private coastal estate. Located on the site of the old Stratford Inn, which later became the original Hotel Del Mar, L'Auberge Del Mar has a storied past with Hollywood and a strong reputation as a picture-perfect getaway destination.


A grand circular drive leads guests to be greeted by the grand entrance of L'Auberge Del Mar, a lobby outfitted with plush seating and a water view. Much of L'Auberge Del Mar's aesthetic appeal comes from its coastal design inspiration. Simple yet elegant furniture, large windows, and neutral and muted tone walls make each room a relaxing oasis. The interior design mirrors the resort's beach surroundings, making each guest's stay and experience rather than any other hotel visit.


Get the Look:
While L'Auberge Del Mar overlooks Southern California's stunning beaches, you don't need to live by the coast to incorporate similar design elements into your home. Interior shutter doors, white furniture, and light wall paint, and cozy fluffed linens are all simple changes you can make to inspire beach living.
For more information, contact
Rancho Santa Fe's leading real estate agent
, K. Ann Brizolis today!