Solana Beach: Sweeping coastal views, unique art galleries and boutiques, and close proximity to San Diego. It's a pristine place to live and visit, and a fantastic spot to enjoy a picnic with friends and family. There are several locations in Solana Beach that will elevate your picnic experience and help create lasting memories. Here are some of the top options Solana has to offer.
Fletcher Cove Park
Fletcher Cove
is the primary beach park in Solana Beach, just a short walk from the Solana Beach train station. There's public parking and restrooms, and plenty of space to lounge and enjoy. Set up in one of the grassy areas, find a bench, or spread out on the beach! The sand is soft and the water is perfect for taking a dip during the warmer months. There are also a few pavilions around the park, which provide nice shade and are sizable for larger groups. You might also consider an evening picnic, with wine and cheese. There's nothing better than a Solana Beach sunset picnic!
Seascape Surf
Seascape Surf
is one of the area's wider beaches, just half a mile south of Fletcher Cove. Although there aren't public restrooms, street parking is usually ample and free. The beach has plenty of room for picnic blankets and beach games. Load up the car with your frisbees and goodies and head to Seascape. The beach is also ideal for water activities like surfing and snorkeling, so you might consider making an entire day of it!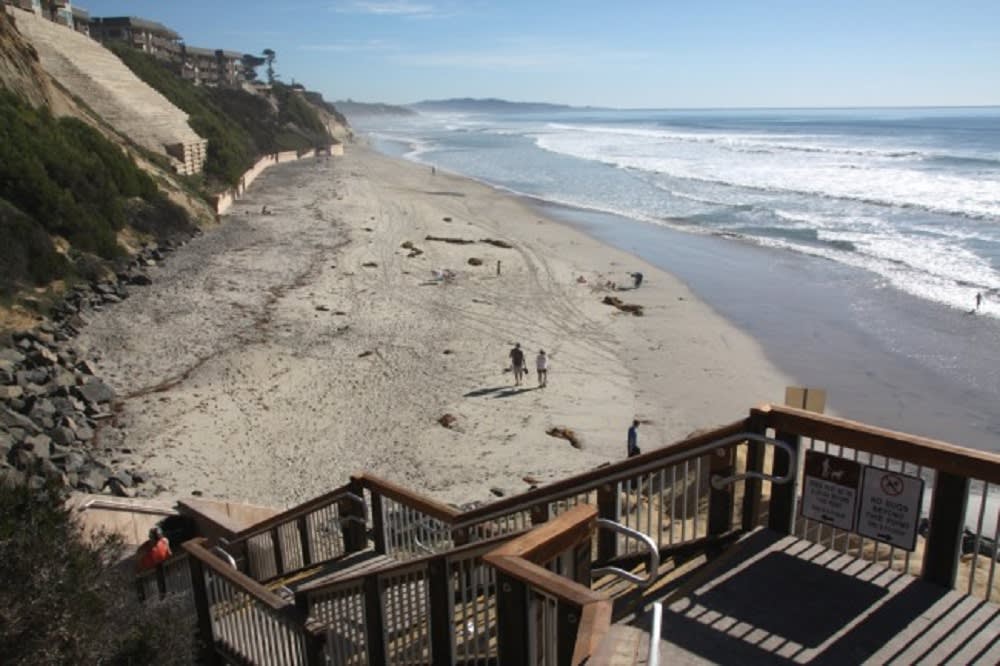 Credit:

californiabeaches.com
Del Mar Shores
When the tide is low,
Del Mar Shores
is another wide beach with room for picnicking. It's located at the southern tip of Solana Beach, below the Del Mar Shores Terrace condominiums. Public access stairways lead down to the beach, which has beautiful water that's popular with surfers. Pay attention to the tides and plan your day accordingly, so you can enjoy a beautiful meal under the sun.
San Elijo Lagoon Ecological Reserve and Nature Center
San Elijo Lagoon Ecological Reserve and Nature Center
is one of the most beautiful nature displays in the area, perfect for hikers, joggers, painters, and...picnickers! With over seven miles of easy-to-moderate trails, there's plenty of room to explore the wetlands, marshes, scrubs, and nature trails. Many trails are accessible via residential areas of Solana Beach, but a good starting point is the Nature Center. Visit the Center to determine which trails and areas will best suit your needs. As you trek along, keep your eyes peeled for the many bird varieties that call the reserve home. After some walking, pick a place to settle in for a picnic (while still maintaining the integrity of the preserve and its guidelines). View the
park brochure
to get a better idea of what there is to see.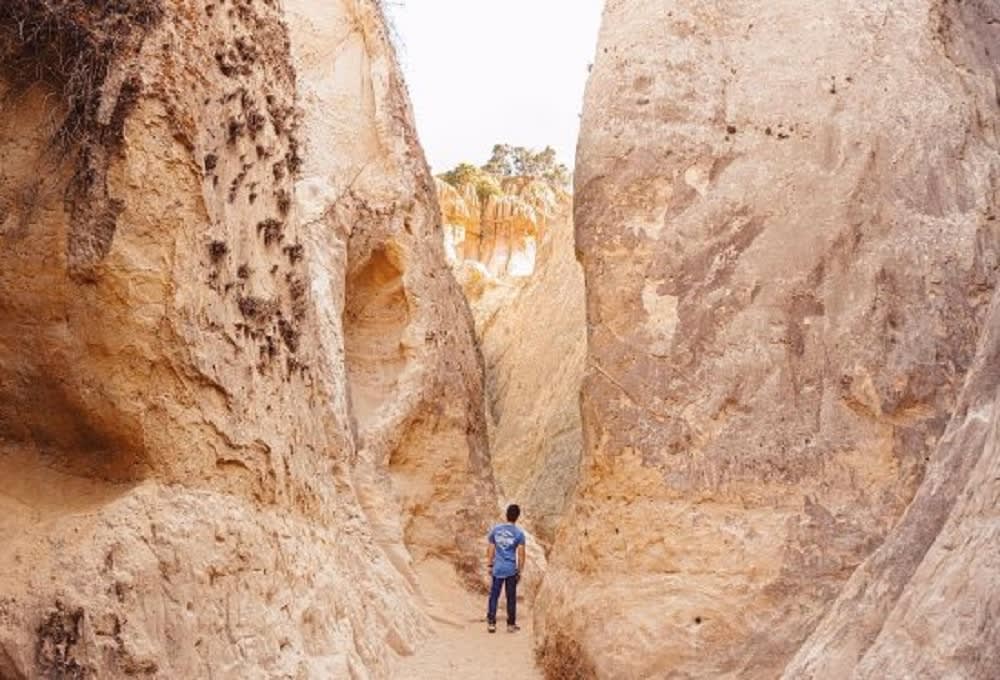 Credit: TripAdvisor
Annie's Canyon Trail
For those who like to mix hiking and picnicking, there's
Annie's Canyon Trail
. This is a rather unique trail for this area of California, with its narrow sand walls that "hug" hikers, as they meander past maritime terraces, natural erosion sites, and fantastic views of the Pacific Ocean and Central Basin. You can either hike through the canyon or up the switchback portion, depending on your comfortability with tight spaces. No matter which option you choose, you'll pass benches, which are ideal for resting and picnicking. Kids especially love seeing native animals, like the desert cottontails, deer, and reptiles.
Solana Hills Trail
Solana Hills Trail
is part of the same nature collective as Annie's Canyon Trail. It's a peaceful spot for walking and picnicking, where you'll have stunning views of the East and Central Basins; beautiful erosion patterns; and a pedestrian bridge under the I-5. Begin at the Solana Hills trailhead, and continue west (you'll eventually reach Annie's Canyon). Stop for lunch on one of the picnic benches, and take in the fresh, coastal air and views.
Glen Park
Although technically located in Cardiff-by-the-Sea,
Glen Park
is just a short drive from Solana Beach and is a very family-friendly spot. In addition to open, green areas, volleyball, basketball, and tennis courts, there's also a park set in sand—perfect for even young kids to stay busy and entertained. Settle down on the grass, or claim one of the picnic benches so you can enjoy your meal. This park is also dog-friendly, so don't hesitate to bring your pooch! And with plenty of shady spaces, even the hottest of days can't interrupt your picnic trip.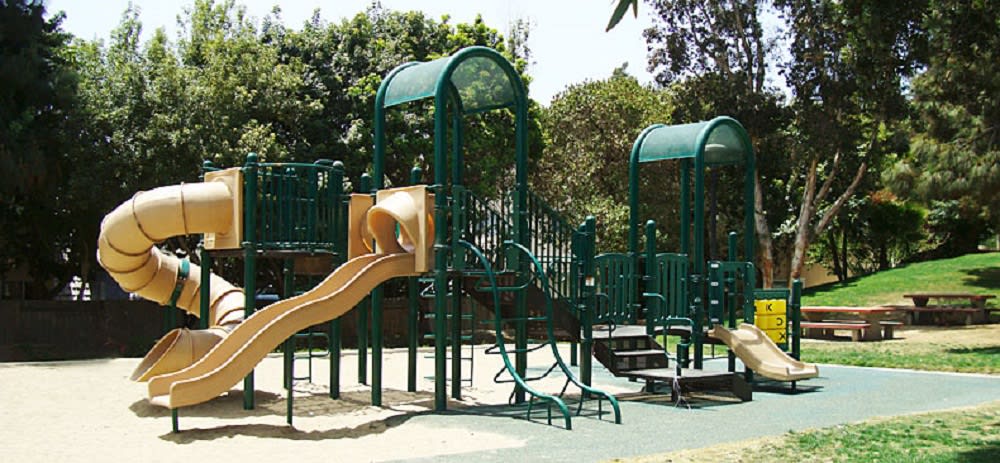 Credit: yournorthcounty.com
La Colonia Park
Another popular place for kids is
La Colonia Park
. A wide green area gives way to a skate park and play structures while walking paths are perfect for strolling or jogging. Locals love it here and enjoy bringing their families for picnics, either on the grass or one of the several picnic benches.
San Dieguito County Park
Across the I-5 from Solana Beach is
San Dieguito County Park
—a complete park experience, with five playgrounds, five miles of trail, fields, courts, and pavilions, and picnic areas. This is really a top-notch spot! The lawns are wide and lush and have two beautiful ponds. Kids love playing at the parks, or following the two TRACK Trails for kids, with nature-themed scavenger hunts to win prizes online. As you stroll along the trails, take note of the coastal views, as well as the beautiful tree varieties. Eating under the pavilion is a nice way to take a break from the sun, as is eating under the beautiful trees that line all of the lawns. The park is open from sunrise to sunset, so you can picnic at any time.
Interested in exploring Solana Beach and the surrounding areas? Contact
K. Ann Brizolis
today!