How Two Mexican Designers Married the Country's Rich Natural Materials With Contemporary Design Lines For a Bold Statement
Every October, Design Week Mexico in Mexico City celebrated the cultural, educational and creative communities throughout the country. At this year's exhibition, emerging designers launched a number of projects made of sustainable and natural materials, a trend spreading through the industry. Among them is
Bandido Studio
's Mura table, a contemporary design inspired the country's craft heritage and local materials to make a bold modern statement.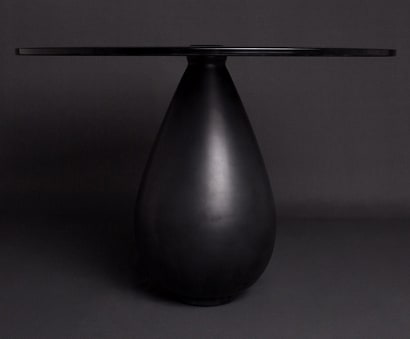 Made of marble, the Mura table started with site visits to Tecali de Herrera, a town in southeastern Mexico near Bandido Studio known for its marble and volcanic rock artisans. This history served as the creative catalyst for the design, a bulbous black base sculpted using a traditional technique developed by Mexico's craftsmen and women. Bandido enlisted a workshop named Meza to assist in the execution, helping to sculpt a solid piece of Mexican black Orizaba marble into the table's base.
The organic shape resembles a drop of water, with a rounder, fuller bottom and narrowed top, and is available in two heights, 15 and 23 inches. The material chosen exhibits a desirable weightiness and patterning, and with a matte finish, makes a strong design statement in any space. A circular piece of dark smoked glass sits atop the marble base and is attached using a round piece of anodized aluminum, all keeping with the same black color scheme.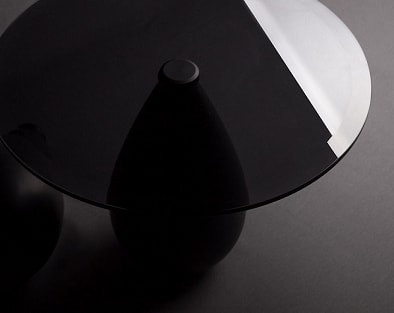 Despite the table's darkness, the marble and glass elements reflect light and bring the design to life. Overall, the Mura successfully marries Mexico's rich history of marble craft with modern design to bring an the material back in style in a bold way.