Located just minutes away from Rancho Santa Fe, The Crosby consists of a private 722-acre master-planned community away from the noise of the city. It features all the luxury amenities of a tightly-knit gated community, as well as some character that's all its own. Below are the top 10 reasons that residents enjoy living at The Crosby.
1. A rich history
The Crosby
opened in 2017 and took its name from the acclaimed actor Bing Crosby. The actor once owned one of Rancho Santa Fe's original adobe homes, located among the development that now bears his name. Although the community has transformed since those days, the area remains highly sought-after real estate. The Crosby's homeowners (or neighbors within 10 miles of the gate) can enjoy a club membership with access to the pool, the fitness center, the golf course, and much more—all of which stand as testimony to Bing's relaxed lifestyle in Rancho Santa Fe.
2. Lifestyle
Living at The Crosby enables residents to enjoy a laid-back but private atmosphere that's hard to find in luxury real estate development. The Crosby is known for its robust and welcoming community and friendly neighbors that attract both retirees and families. At least 50% of residents have a college degree, and the vast majority of its homes are owned rather than rented.
3. Amenities
The Crosby Club offers members luxury access to an 18 hole golf course, a full fitness room (and group exercise calendar), a spacious swimming pool, four tennis courts, and a variety of dining options. The tennis courts are conveniently located next to the spa courtyard, which creates the perfect environment for tournaments, post-game socials, and constant refreshment. Private and group tennis lessons are currently offered by USPTA Certified Tennis Professionals. Whether you're new to the game or simply looking to improve your technique, The Crosby curates professional talent to assist its members.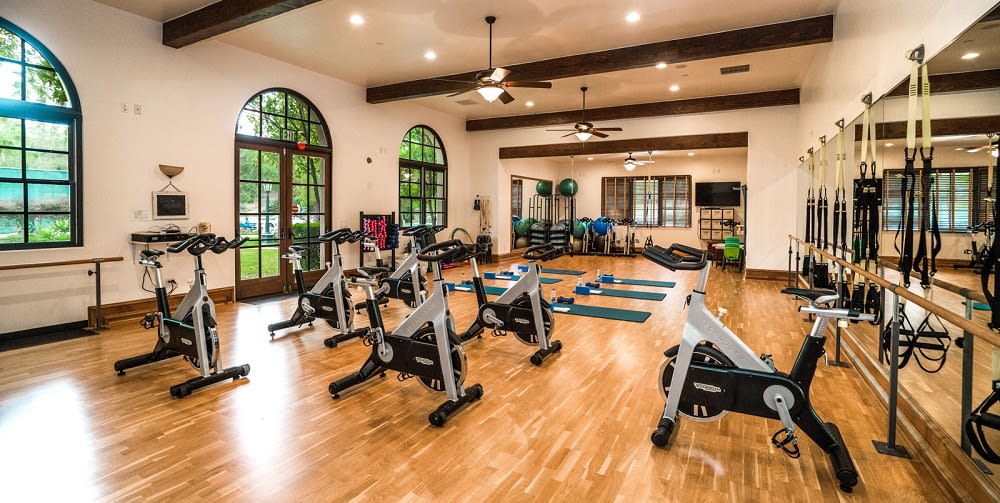 Credit: The Crosby
The
athletics center
offers a variety of recreation options designed to meet every member's needs. Residents have access to personal training through the club's Certified Personal Trainers, who offer fitness assessments and customized exercise programs for each member. In addition to fitness staff, hospitality professionals are on-site to ensure that each guest has the best possible experience while at the club.
4. Golf Course
The heart of The Crosby Rancho Santa Fe is the
18-hole championship golf course
. Created by Fred Couples and Schmidt-Curby Design, this 35,000-square-foot golf course is among the best of the best and guarantees a memorable experience for those who love to golf. Luscious greens, a spectacular elevation change, and unbeatable views await you at every hole. Multiple tees and combination tees enable guests to play the course with the level of difficulty they want. The golf courses come equipped with top-notch GPS technology to act as your "on-course" personal assistant every round you play. Additionally, the club's professional golf staff will be there to assist you in selecting the right golf ball or gently correcting your swing. You can rest assured knowing that you'll be in good hands while playing at The Crosby.
5. Real Estate
The Crosby is well known for its stunning architecture, consisting of a wide array of luxury Spanish Colonial residences. The community features 140 Villas and 211 semi-custom residents, as well as 92 grand custom homes that allude to the highest level of detail and craftsmanship. Many of the homes come with scenic views overlooking the golf course and hillside. The Crosby's prices range from $750,000 to more than $4,000,000.
6. Location
The Crosby is in a prime location, situated just 30 minutes from Del Mar, La Jolla, and Downtown San Diego. Residents enjoy all the conveniences of big city access, including world-class attractions and family fun. Legoland, the San Diego Zoo, and Coronado Island are all within reach.
7. Access to nature
The Crosby enjoys close access to the desert, the ocean, and a lifetime of scenic views. The
Black Mountain Open Space Preserve
is a 2,352-acre wildlife refuge with more than a dozen hikes spanning all levels of difficulty. The 1,554' summit of Black Mountain is the pinnacle of the preserve and provides 360-degree views of the surrounding area. On a clear day, hikers are able to take in ocean views to the west, mountain views to the north and east, and views of downtown San Diego to the south. It's the perfect place to connect with nature. Whether you're a runner, hiker, birder, photographer, or painter, the
San Elijo Lagoon Ecological Reserve and Nature Center
is also worth exploring. The lagoon provides 979-acres of natural solace to visitors and is open from sunrise to sunset.
8. Restaurants
When it comes to dining, there's plenty of options at The Crosby, including everything from casual fare to
fine-dining
. The Crosby Club offers a 33,000-square-foot clubhouse, including both public and private dining rooms, a bar, a lounge, the Clubhouse Grille, the Poolside Grille, and the Going My Way Grille. On Friday and Saturday, young children can enjoy a myriad of exciting activities, including movies, video games, and more (with meals included!) Rancho Santa Fe also offers an array of eateries. Check out the Rancho Santa Fe Sandwich Shop, Cafe Positano, Rancho Santa Fe Bistro, Morada, Mille Fleurs, Delicias, and Thyme in the Ranch.
9. Schools
Having great schools is one of the top priorities for families, and Rancho Santa Fe doesn't disappoint. The Crosby is located close to a number of award-winning schools at each academic level. This includes both public and private schools, which enables The Crosby's residents to choose the best path for their children. Some top-rated public schools in the area include Solana Santa Fe Elementary School, Earl Warren Middle School, and Torrey Pines High School. Torrey Pines received an
overall Niche grade of A+
. The private schools nearby include The Nativity School, Horizon Prep School, Santa Fe Christian School, and Cathedral Catholic High School.
10. Shopping
The Crosby is a primarily residential community, but it's located near a variety of retail hot spots. Whether you need to grab groceries or want to revamp your wardrobe, there's plenty of places around to do just that. The
4S Commons Town Center
has salons, grocery stores, and unique shops and restaurants. Ralph's, Cost Plus World Market, Bed Bath & Beyond, Geppetto's Toys, and more large retailers are all nearby. Given its proximity to San Diego, The Crosby is also close to an array of other golf courses, lively bars, and beach-side entertainment.
If you're ready to explore The Crosby and Rancho Santa Fe homes for sale,
contact realtor K. Ann Brizolis
today. Whether you're looking for a vacation rental or a forever home, Ann and her team can expertly walk you through the process from start to finish.

*Header photo credit: K. Ann Brizolis